---
---
10/19/20: Covid-19 Update: At the moment, there is nothing going on.
A decision was made to NOT schedule any Open House / Train Show events.
Should it be safe to open, we will post the schedule here & on Facebook, as we always do.

Thanks for your understanding during this difficult time.







Directions

N.A.S.M.E. is located at:
212 Main Street
Stockertown, PA 18083

///what3words address


1.
Take Route 33 North or South to
Stockertown Exit - Route 191.
2.
Take Route 191 North to the
traffic light.
3.
At light, make right, you will be
on Main Street (Sullivan Trail).
4.
Make left at Valero station to
parking behind the Post Office (Borough Hall).
**** Effective 8/1/2012 - No parking Monday and Wednesday evenings. (non holiday weeks) ****
5.
We are located across the street, from the front of Borough Hall.
**** Please be careful walking across Main Street ****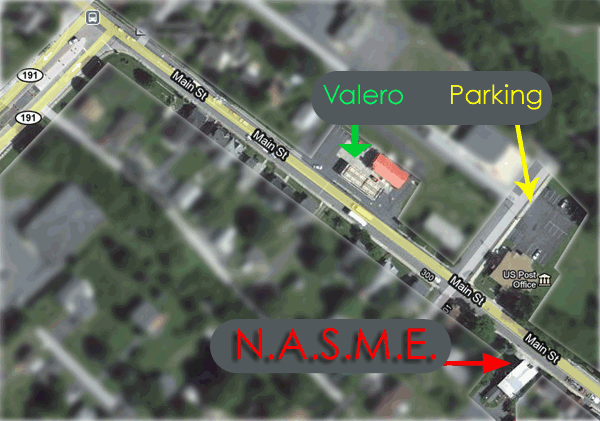 For more information:
send an e-mail to N.A.S.M.E.
For information by phone:
Roger Wolfe 610.252.8082
---
N.A.S.M.E. Home | About Us | Transfer Table | Join Us | Photos | Interchange
Updated October 19, 2020
Maintained by N.A.S.M.E.
© N.A.S.M.E. Inc. All rights reserved.